Dental Implants
Video on What is Dental Implant?
Video on Treated Dental Implant Case
Dental implants are designed to provide a foundation for replacement teeth that look, feel, and function like natural teeth. The person who has lost teeth regains the ability to eat virtually anything and can smile with confidence, knowing that teeth appear natural and that facial contours will be preserved. The implants themselves are tiny titanium posts that are placed into the jawbone where teeth are missing. The bone bonds with the titanium, creating a strong foundation for artificial teeth. In addition, implants can help preserve facial structure, preventing the bone deterioration that occurs when teeth are missing.
Dental implants are changing the way people live! With them, people are rediscovering the comfort and confidence to eat, speak, laugh, and enjoy life.
Evaluation
If, like many others, you feel implant dentistry is the choice for you, we ask that you undergo a dental/radiographic examination and health history. During these consultation visits, Kuljeet Mehta -Periodontist, will address your specific needs and considerations. Your questions and concerns are important to us and our team will work with you very closely to help make your procedure a success.
Procedures
Dental implants are metal anchors that act as tooth root substitutes. They are surgically placed into the jawbone. Small posts are attached to the implant to provide stable anchors in the gums for replacement teeth.
For most patients, the placement of dental implants involves two surgical procedures. First, implants are placed within your jawbone. Healing time following surgery varies from person to person and is based on a variety of factors that include hardness of bone. In some cases, implants may be restored immediately after they are placed.
For the first two to six months following surgery, the implants are beneath the surface of the gums gradually bonding with the jawbone. You should be able to wear temporary dentures and eat a soft diet during this time.
After the implant has bonded to the jawbone, the second phase begins. Kuljeet Mehta will uncover the implants and attach a small healing collar. An impression must be taken. Then posts or attachments can be connected to the implants. The teeth replacements are then made over the posts or attachments. The entire procedure usually takes two to six months. Most patients do not experience any disruption in their daily life.
Bone Grafting
Video on - Bone Grafting
Over a period of time, the jawbone associated with missing teeth atrophies or is reabsorbed. This often leaves a condition in which there is poor quality and quantity of bone suitable for placement of dental implants. In these situations, most patients are not candidates for placement of dental implants. Today, we have the ability to grow bone where needed. This not only gives us the opportunity to place implants of proper length and width, it also gives us a chance to restore functionality and aesthetic appearance. Bone grafting can repair implant sites with inadequate bone structure due to previous extractions, gum disease, or injuries. In addition, special membranes may be utilized that dissolve under the gum and protect the bone graft and encourage bone regeneration. This is called guided bone regeneration or guided tissue regeneration.
Sinus Lift Procedure
Video on Sinus lift and Dental Implant
Sinus Lift: The maxillary sinuses are behind your cheeks and on top of the upper teeth. Sinuses are like empty rooms that have nothing in them. Some of the roots of the natural upper teeth extend up into the maxillary sinuses. When these upper teeth are removed, there is often just a thin wall of bone separating the maxillary sinus and the mouth. Dental implants need bone to hold them in place. When the sinus wall is very thin, it is impossible to place dental implants in this bone.
There is a solution called a sinus graft or sinus lift graft. The dental implant surgeon enters the sinus from where the upper teeth used to be. The sinus membrane is then lifted upward and donor bone is inserted into the floor of the sinus. Keep in mind that the floor of the sinus is the roof of the upper jaw. After several months of healing, the bone becomes part of the patient's jaw and dental implants can be inserted and stabilized in this new sinus bone.
The sinus graft makes it possible for many patients to have dental implants when years ago there was no other option other than wearing loose dentures.
If enough bone between the upper jaw ridge and the bottom of the sinus is available to stabilize the implant well, sinus augmentations and implant placement can sometimes be performed as a single procedure. If not enough bone is available, the sinus augmentation will have to be performed first, then the graft will have to mature for several months, depending upon the type of graft material used. Once the graft has matured, the implants can be placed.
Case Study for Sinus Lift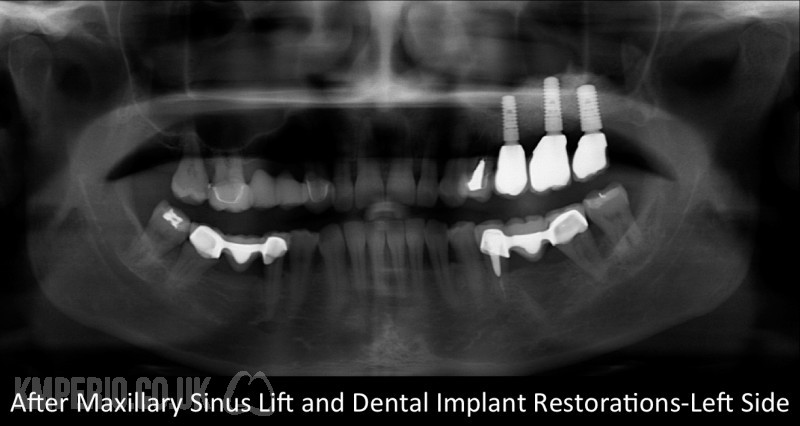 Ridge Expansion
In severe cases, the ridge has been reabsorbed and a bone graft is placed to increase ridge height and/or width. This is a technique used to restore the lost bone dimension when the jaw ridge gets too thin to place conventional implants. In this procedure, the bony ridge of the jaw is literally expanded by mechanical means. Bone graft material can be placed and matured for a few months before placing the implant.
In many cases, we can use allograft material to implement bone grafting for dental implants.
Socket Preservation
Video on Socket Preservation after Extraction and Dental Implant
Socket Preservation: A common approach to the preservation of hard and soft tissues immediately after tooth extraction is to fill the extraction socket with a bone substitute (Socket preservation). Careful management of extraction sockets after tooth extraction prevents unsightly bone loss and provides a better cosmetic outcome for tooth replacement.
When a tooth is extracted an empty socket remains, in order to preserve the bone, reduce bleeding and expedite healing a socket graft is placed at the time of surgery. It has been shown that after extractions if bone grafting is not performed 40 to 60 percent of bone may be lost. Socket grafting and ridge preservation also aids in delaying facial aging lines from around lips. This maintaining of bone, opens a variety of restorative options as well as less bulky partials and dentures.
Careful management of extraction sockets after tooth extraction prevents unsightly bone loss and provides a better cosmetic outcome for tooth replacement. As well, the bone at extraction socket should be preserved and enhanced to allow for predictable dental implant placement, should it be needed immediately or in the future. The management involves placing bone into the tooth socket at the time of extraction, then covering that area with a collagen "membrane" to protect the bone underneath. The area needs to heal two to six months, depending on the size of the socket. The additional expense of this step is worth it to prevent defects from occurring and the additional need of bone repair procedures in the future, which are more costly and extensive.
Video on Extraction, Socket Grafting and Dental Implant